How to reduce vacancy with your Sydney investment property
We've had some great all round seasons in the Sydney rental market over the past few years, which has been such an opportunity for our investor clients. However, in 2018 things have turned. We are now witnessing for the first time in years what is a difficult rental market in terms of sourcing tenants and gaining optimal rent returns.
Statistically, latest data on vacancy rates indicates a 1.1% rise in the Sydney metro area vacancy rate from 1.2% in 2017 to 2.3% as at March 2018. The core market that I service, Sydney's Inner West suburbs, indicates a rise in rental stock and steady rise in vacancy to 1.8% as at April 2018.
The pain for some landlords has already started. Separate figures published by data provider CoreLogic showed Sydney house rents fell 0.3 per cent in December 2017 to a median weekly figure of $599. Unit rents also fell 0.3 per cent from November 2017 to $561. It's interesting to see that median weekly rents of apartments versus houses are almost on par with each other.
My thoughts on why this has occurred is as follows:
Lack of wage growth leading to lack of consumer expenditure
Current over supply of apartments due to high levels of construction
Vacancy rate almost in equilibrium (supply = demand; rate is 3.00%)
Those exiting Sydney due to housing unaffordability is on the increase due to a strong desire for a change of lifestyle
Premium apartment rents are only obtainable when first released to market (brand new stock) then commence a decline when re-let for the first time (not brand new anymore!)
Rental properties which are below minimum standard and quality falling substantially in rental value terms adding to increase stock vacancy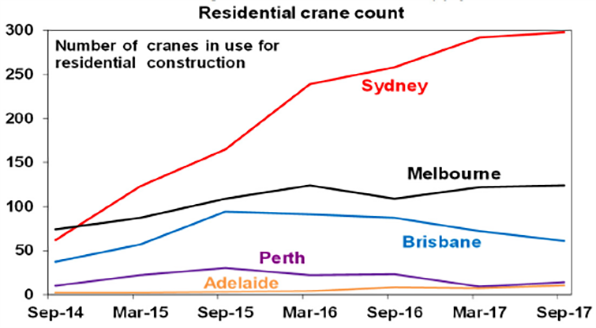 Graph Source: RLB Crane Index
Here are my tips on how to minimize vacancy of your investment property in what is a tenant's rental market in 2018:
Keep up to date on maintenance while you have tenants living in your property
Monitor lease expiry dates and begin new lease negotiations at least 60 days prior to expiry.
Don't allow leases to expire in low season. e.g. if your property is located beachside, don't sign a 6 months lease in December (high season) allowing potential vacancy in June/July (low season)
Schedule regular improvements and updates on your property. Remembering to do a fresh coat of paint and new floor coverings or upgrade to more desirable hard wood flooring every 5 – 10 years (depending on the wear your property gets) and reserve some cash for more major renovations like kitchens and bathrooms.
Insist on your property manager using a professional photographer to take photos of your property for advertising. This will make your property seem really appealing when tenants view it online and bring about more enquiry 5 x fold.
Maximise the storage space in your property with built in wardrobes in bedrooms, large pantries in kitchen and any other areas that allow for additional storage
Consider allowing pets in your property. If your property isn't in a strata complex (like a townhouse or unit) and you have the ability to make decision about permitting pets, consider taking pet applications with tenancy applications, so that you can consider allowing pets in your property.
Look to the market for pricing guides. Ensure that your property is priced appropriately in the rental market. Ask your property manager to provide you with a current market analysis for your investment property so that you can determine the appropriate rent for your investment.
Offer financial incentives if there are currently more than 30 listings of like for like rental property in your rental property postcode. This could be as simple as offering in the advert "1 weeks free rent" or "free years gym membership" to the local gym or the like.
For more information on how to give your property the best chance of rental, contact Real Property Manager via our contact form or call John Gilmovich on 0418 600 806.
* This article is for general informational purposes only and must not be taken as legal, financial or any other professional advice. We recommend obtaining advice specific to your situation before making decisions relating to your investment property and financial position.